Human Revolution Clothing (HRC) is a Hawaii-based company founded by Lauren Adelman. Turning her life into one complete mission, Lauren has set out to create a sustainable company, which features organic, GMO free, fair-trade clothes along with hand woven khadi scarves, dresses as well as hand stitched trucker hats. This all started when she had the idea to make organic underwear for yogis and began what she thought was some innocent research into the textile industry. What Lauren discovered was an industry that has been unregulated and unmonitored, leaving it second to oil as the dirtiest industry in the world. Add the fact that more than 90% of the world's cotton is currently genetically modified, signifying cotton as the most chemically intensive crop which requires more toxic carcinogenic insecticides and pesticides than any other crop, left Lauren with a life mission and passion to help change the way clothing is made, seed to shirt.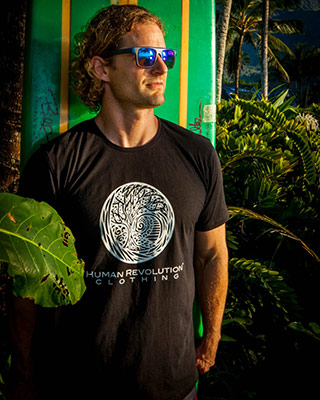 Before making any products or starting HRC, Lauren went to India to meet many farmers and their families after learning about the mass suicides in the "cotton belt" in India. Over 300,000 farmers in India have committed suicide in the past decade due to increasing costs and low yields of seed and chemicals required for use by genetically modified cotton farming. It is very hard to step away from GMO cotton farming in India, but many small farmers are seeing that is the only way to survive and many of these farmers work harder just to discontinue chemical farming in efforts to save their land and their families.
From over five years of research, HRC was born along with a business model that aligns itself with nature - every part of HRC business is to be done to the best of their abilities and created with every bit of integrity and respect. With that in mind, Lauren hopes to develop the company into a lifestyle brand that focuses on sustainable, organic and recycled materials. Lauren also hopes to start a foundation to help farmers in India purchase drip irrigation, which is a necessity for growing consistent yields of cotton.
Having spent over five years just purely researching, learning and traveling, Lauren has created a brand that sees people living happy, healthy and joyous lives. Being apart of that system is amazing and at BOB we are looking forward to amazing work from HRC in the coming years! If you are looking to purchase HRC pieces, please check out their website - http://www.humanrevolutionclothing.com